State of Africa's climate in 2021-Hazards, trends and impacts and advancing climate services for informed decision making and resilience building in Africa and in the South West Indian Ocean
The African Union Commission highlighted the State of Africa's climate, hazards, trends and its human and economic impacts at a side event on 14 November with a focus on the islands of the South-West Indian Ocean which are on the frontline of some of the effects of climate change. This was an opportunity for African and India-Oceanian climate stakeholders to call for a contribution to update Nationally Determined Contributions (NDCs) and priorities of Multi Hazards Early Warning Systems for building resilience in Africa.
Hazards, trends and impacts, what was the state of Africa's climate in 2021
By presenting the state of the climate in Africa in 2021, the African Centre of Meteorological Applications for Development (ACMAD), one of the beneficiaries of the ClimSA Programme, raised the question of the priorities of NDCs given the needs for an immediate action. At the continental level, trends on number of extremely warm days across Africa are becoming three times higher today than compared to 40 years ago. Africa is warming much faster than the globe as a whole. This has strong implications in planning the NDCs of the energy and agriculture sectors. Heavy rains and floods are additional priority hazards for NDCs updates in Africa, as a strong trend is moving from 4% in the early 80's to 40% in 2020. Sea level rise rate, storm surges over the African coasts as well as fluctuations on the start of the agricultural season that farmers are not prepared to handle, should also be considered as priority in the NDCs updates.
Evidence strongly supports climate services for effective climate action
The Glasgow Climate Pact recognised the importance of the best available science for effective climate action and policy making. Climate informed decision making remains critical for effective climate action at all levels, including at the individual level.
While meteorological services most often generate forecasts of atmospheric parameters, actionable indicators are needed. For example, impact-based drought outlooks aim to provide continental level solutions in NDCs to reduce inflation in commodity markets in drought year. Impact-based flood outlooks also intend to implement early emergency preparedness and response plans for the population living on a given flood-affected area. Technical institutions, such as meteorological, hydrological and disaster management agencies, need impact-based forecasts in order to translate these climate services into budget implication and inform programmes' implementation at national level.
Africa's recent adoption of critical climate-related frameworks to build resilience
Given the urgency to accelerate the ambitions of the programmes on the SDGs 2030 agenda and the 2063 African Union agenda, the top leaders of the African Union recently have adopted frameworks for enhancing generation and delivery of reliance weather, water and climate services on the continent under a continent-wide hydrometeorological programme with the aim to deliver climate services for all sensitive sectors and locations.
On their side, Regional organisations such as the Indian Ocean Commission (IOC), also one of the beneficiaries of the ClimSA Programme, confirmed the role they have to play in identifying the causes of climate change and providing at a sub-regional level collective solutions such as science, innovation, training.
In this context, the Hydromet project implemented by the IOC, which is funded by multi-fund donors such as Green Climate Fund (GCF), European Union (EU) and Agence Française de Dévéloppement (AFD), will empower islands with equipment and skills to improve weather forecasting capabilities and provide useful services for decision making in several sectors of the economy. The EU's contribution is availed under the EU-ACP partnership through the intra-ACP Climate Services and related applications programme (ClimSA).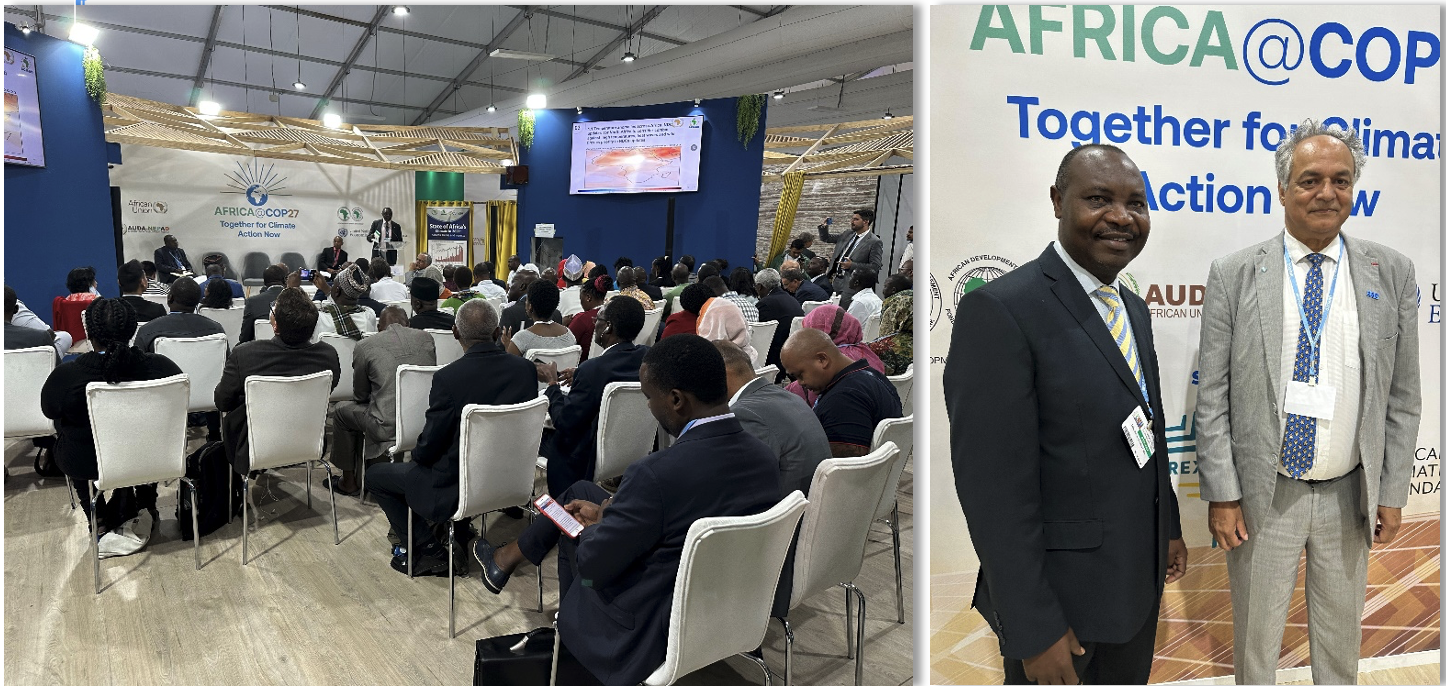 Dr Nsadisa Faka, Team leader Intra-ACP ClimSA Programme, Pr. Vêlayoudom Marimoutou, Secretary General Indian Ocean Commission,
Side event COP 27 Africa Pavilion 16 November 2022, Sharm el Sheikh, Egypt.