Public-Private approaches for Climate adaptation projects: Application to the Early Warning for All Initiative

During COP27, the United Nations Secretary General (UNSG) launched on 7 November 2022, an ambitious plan to provide access to Early Warning Systems against increasingly extreme and dangerous weather conditions, leaving no one behind by 2027. At the French Pavilion of COP27, a side event was hosted on 8 November 2022 by the French Government, which gave the floor to high-level representatives from vulnerable countries, from donor countries to the CREWS initiative, as well as from the private sector, to address the priority needs and possible solutions related to the Early Warnings for All initiative.
An Initiative from Sendai 2015
France has long supported the development of Early warning systems, including through the Climate Risks and Early Warning Systems initiative (CREWS) launched at COP21 and today covering 75 countries.
According to United Nations World Meteorological Organisation (WMO), the Executive Action Plan for the Early Warnings for All initiative (W4All initiative), calls for initial new targeted investments of 3.1 billion USD between 2023 and 2027, equivalent to a cost of just 50 cents per person per year. The launch of this Executive Action Plan is an important contribution for adaptation and resilience, particularly in Africa, where 60% of people are not covered by early warning systems. The plan identifies key areas for advancing universal disaster risk knowledge, outlining priority actions required to achieve this, and building on the Sendai Framework for Disaster Risk Reduction. The plan is drawn up by the World Meteorological Organization and partners, and it is supported by a joint statement signed by 50 countries.
Global overview of multi-hazard EWS – MFI presentation
A 4 key Multi-Hazard Early Warning System pillars
The Multi-Hazard Early Warning System (MHEWS) is an integrated system which allows people to know that hazardous weather or climate events are on their way, and informs how Governments, communities and individuals can act to minimise impacts.
The estimated new targeted investments of USD 3.1 Billion over the five years would be used to advance the four key MHEWS pillars:
Disaster risk knowledge -> systematically collect data and undertake risk assessments on hazards and vulnerabilities
Observations and Forecasting -> develop hazard monitoring and early warning services
Preparedness and response -> build national and community response capabilities
Dissemination and communication -> communicate risk information so it reaches all those who need it, and is understandable and usable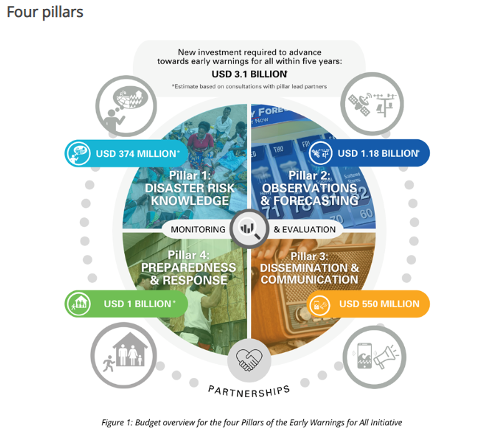 Public-Private Partnership
Synergies will be built between the contribution provided by multilateral initiatives such as CREWS, and solutions will be proposed by the private sector, which has a key role to play on the pathway towards achieving the objective set by the UNSG.
According to Mami Mizutori, UN Special Representative of the Secretary-General for Disaster Risk Reduction and Head of the United Nations Office for Disaster Risk Reduction (UNDRR), Public-Private Partnerships are needed to strengthen all elements of Early Warning – Early Action, that is a proven tool to save lives and livelihoods and to reduce economic losses.
A new outlet for the ClimSA Programme
The ClimSA Programme has already started engaging representatives from the private sector for their involvement in the development of products and services in the climate services value chain. The ClimSA Programme Team Leader, Dr. Nsadisa Faka, shared with the speakers details for further discussion on the involvement of Regional Climate Centres (RCCs) in the process of early warning systems.
More specifically, the ClimSA Programme Team Leader discussed with Mr. Patrick Bénichou from Météo France Internationale (MFI) and Dr. Arlene Laing from the Caribbean Meteorological Organisation (CMO), on the role that the RCCs of the Organisation of African, Caribbean and Pacific States (OACPS) may play in the implementation of the W4ALL initiative at the regional level. ClimSA is already supporting the OACPS RCCs in setting up the relevant infrastructure to underpin the early warning for early action.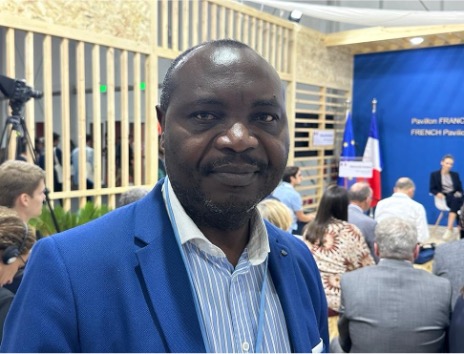 Dr. Nsadisa Faka, Team Leader ClimSA Programme at COP27 French Pavilion Side event on 8 November 2022, Sharm El Sheikh, Egypt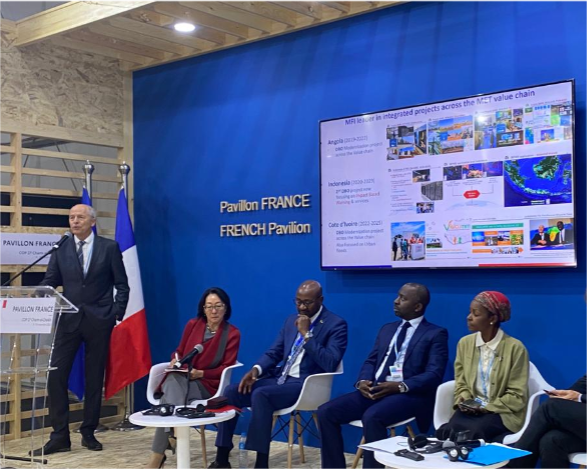 Patrick Bénichou, Météo France Internationale (MFI) President, a private institution, Mami Mizutori, UN Representative of the GG for DRR as Head of UNDRR, Mateus Magala, Mozambique's Ministry of Transport, Dr. Arlene Laing, Caribbean Meteorological Organization (CMO), participated as speakers at COP 27 French Pavilion Side event on 8 November 2022, Sharm el Sheikh, Egypt.