ClimSA's Climate Services and Applications decision support tool, for improving sustainable socio-economic growth and well-being outcomes of OACPS countries and communities

Two climate services application tools, which aim to support decision makers in Member States and Regions of the Organisation of African, Caribbean and Pacific States (OACPS), were showcased during a UNFCCC side event on Wednesday 9 November at COP 27 in Sharm El-Sheikh. The side event which was co-hosted by the OACPS through its intra-ACP Climate Services and Related Applications (ClimSA) Programme and the Karlsruhe Institute of Technology, sought to demonstrate the importance of using climate information to strengthen policy, planning and practice decisions for sustainable economic development and building resilient societies. OACPS Assistant Secretary General for Environment & Climate Action, Ms Cristelle Pratt, said "The utility of decision support tools such as the 'ClimSA Socio-Economic Benefit Tool' will become commonplace and an imperative for informing planning and practice decisions of government, industry and individuals, to ensure resilience and sustainability at all levels of society and economy".
While the value of climate services and applications in identifying strategies to address climate change impacts is no longer in question, what remains a challenge is providing the requisite evidence and business case that shows the added-value of investing in climate services for improving the sustainable socio-economic growth and well-being of countries and communities of the OACPS. In this regard awareness raising of decision-makers of the benefits of climate services and related applications for informing their policy, planning and practical decisions at all level and scales is necessary.
The OACPS ClimSA Socio-Economic Benefit Tool
The OACPS has through its intra-ACP ClimSA Programme developed, in partnership with Ventana Systems Inc. and the University of North Dakota (UND), a Socio-Economic Benefit Tool which intends to measure the socio-economic benefits of climate services. Over 20 climate experts from the six regions of the OACPS have participated in a UND-led training programme which used Ventana Systems Inc software to enable trainees to build a national template model, specific to a country.
The proposed template model is a baseline that can be used in defining a specific model for any of the 79 countries of the OACPS. It can be adjusted from between three to 20 socio-economic sectors, and is based on system dynamic methodology using input-output tables which contain the socio-economic benefits of various mitigation measures of climate-induced damage.
Adjustments to the OACPS SEB tool were made by trainees, including for example the effects of climate information services (CIS), the effects of informal economic activities, the impact of social conflicts, and sector-specific changes such as explicitly identifying the role of fertilizer as a key input to the agriculture production system.
Improvements to the ClimSA SEB (decision support system) Tool
The model underpinning the ClimSA SEB Tool aims to simulate economic impacts, through quantifying economic losses for sensitive sectors and estimating the benefits of adaptative measures and innovative technologies to reduce the effects of climate change threats on them. The tool offers a cost/benefit analysis by combining scenario-based on climate change trends, adaptation policies, and assumptions of the underlying structure of the ecology and economy of the country of interest.
The Role of Applied Research
The role of applied research is crucial to improving and refining seasonal forecasts and applications in the design and development of decision support tools. In the case of the Karlsruhe Institute of Technology's, close collaboration with local stakeholders to provide the local features of impact(s) to enable tailoring the outputs for better, more effective decision support that leads to resilience building and sustainable development is core to their approach.
This was demonstrated by the Karlsruhe Institute of Technology's presentation who outlined how their applied research contributions – providing seamless weekly to monthly lead-time forecast predictions are being tailored to meet decision makers needs and requirements. A pilot case study on water resource management, at the water basin level in the Greater Horn Africa, was presented as an example.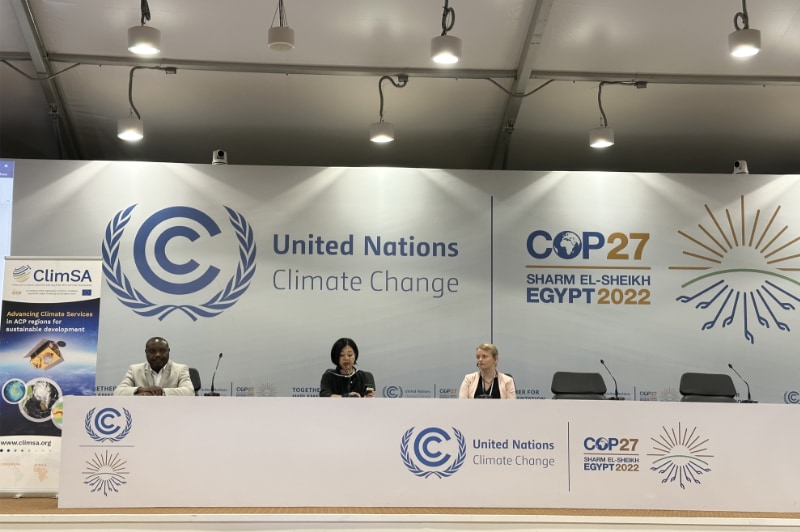 COP 27 UNFCCC (Hybrid) Side Event held on 9 November 2022, with Dr. Nsadisa Faka, ClimSA TA to OACPS, Ms. Cristelle Pratt, OACPS ASG and Dr. Tanja Portele, Karlsruhe Institute of Technology in Sharm El Sheikh, Egypt.